Professional Medical Coding Internship
We are the only coding program giving students the opportunity to gain real-world Hierarchical Conditional Category (HCC) Coding experience in a Professional Medical Coding Internship with a focus on ICD-10-CM.
Let's learn the Terminology
HCC Coding, or Hierarchical Conditional Category Coding is a way for medical practices and hospitals to estimate a patient's future health care costs. It is a concept closely tied with profitability and drives healthcare as a business.
ICD-10 is a worldwide classification system used by insurance companies to determine how much to pay for each patient visit and procedure.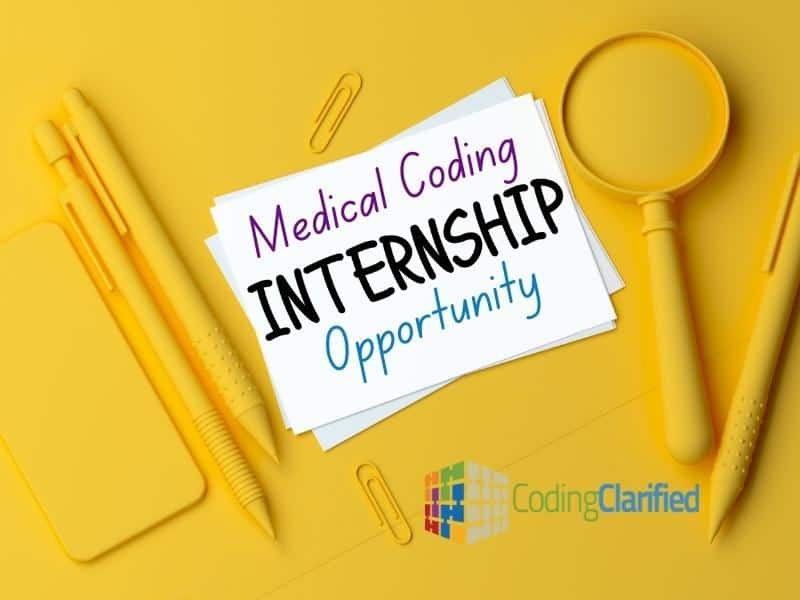 Top Reasons Our HCC Internship will Clarify Coding For You
Apply to positions across multiple specialties. HCC is the largest specialty in medical coding (including OBGYN, GI, Orthopedics, Endocrinology, Emergency, Neurology, etc.) and you'll be qualified to pursue any of them.
Jump start your job search. Apply for remote positions immediately after completing the REMOTE internship.
Gain coding experience before you apply for jobs. Chances are you'll be the only recent graduate with this level of practical experience. We get you over the hurdle of "required experience."
This is exactly what employers are looking for…well-rounded CPCs. Not only do we teach the fundamentals of ICD-10 coding, Coding Clarified gives students the skillset to spot trends and errors, confidence to suggest process improvements, and a great foundation across multiple specialties.
Here's what is important no matter what program you choose. To get a job, you need coding experience. And to get coding experience, you need a job. This is why Coding Clarified is different. Once you complete the program, become certified, and finish Practicode, you will have the opportunity to complete a one-of-a-kind medical coding internship with us. We only offer this to Coding Clarified Alumni.
How does it work? You will log in to our website daily, code charts, comment on any chart that triggers questions, and get one-on-one feedback. This gives you actual remote medical coding experience because you are essentially coding remotely every single day.
How will this prepare me for a job? We cover the largest specialty in medical coding (HCC) which gives you a great foundation to build your career. Plus, employers need CPCs with work experience in their specialty. Since our cost includes the HCC Internship, we are the best value in CPC programs.
How long does it take? This depends on the student, but average is 3-4 months.
How many charts will I code? 600 individually curated charts with common trends you'll encounter (such as documentation inconsistencies). This is equivalent to 2 years of real-world coding experience.
Is the internship included in the cost? Yes! But only Coding Clarified Alumni have access to this amazing opportunity.
Will I be paid during the internship? No, this is an unpaid internship, however, you will gain priceless experience critical to landing your first coding job.
How do I get help if I have a question? We have a live auditor monitoring our interns and answering questions. You will also have access to questions and answers from previous interns.
What specialties are covered? All of them including (but not limited to) oncology, pediatrics, endocrinology, emergency medicine, obstetrics and gynecology, orthopedics, cardiology, and pulmonology. This will make you a really well-rounded, capable coder and position you for a successful career.
You'll be able to apply for jobs immediately upon completing the program in addition to clearly demonstrating your ability to work in a remote environment.